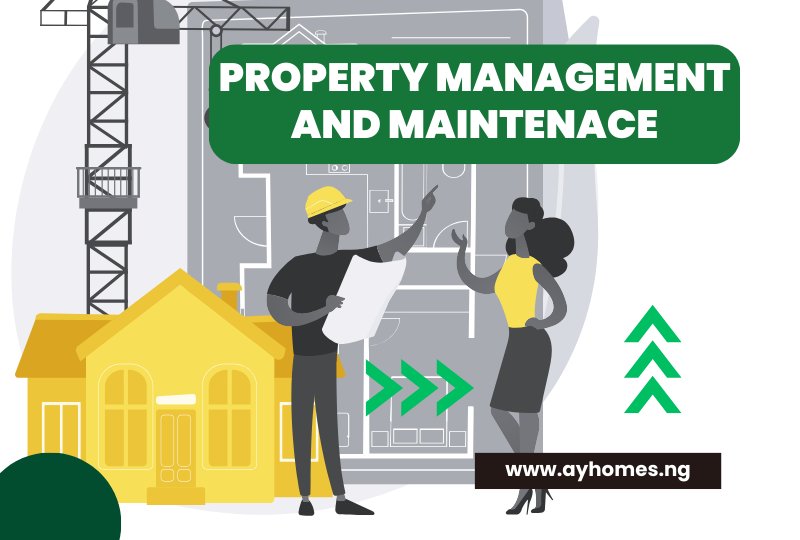 Property Management and Maintenance
Property management and maintenance serve as crucial pillars in the dynamic real estate industry for maintaining the smooth running of rental properties. This practice has become very crucial in Nigeria as the real estate market keeps growing. 
We've put up a thorough guide with advice, insights, and a rundown of property management firms to assist you in navigating the complex world of property management and maintenance. You can succeed with your rental property investment by following these best practices.
Tips for Managing Rental Properties
Tenant Screening:
Tenant screening is one of the most important parts of property management. You may be sure that you're renting your property to dependable people by using a rigorous screening process. By taking this action, you can avoid dealing with troublesome tenants who might cause property damage or late rent payments. Make informed decisions by using background checks, credit reports, and reference checks.
      2. Regular Inspection:

To make sure that your property is well-maintained, regular property inspections are vital. Plan inspections at regular intervals to spot problems as they arise. Prompt problem-solving can help you avoid costly future significant repairs.
      3. Effective Communication:

A successful property management business depends on maintaining regular, productive communication with your tenants. Address their issues as soon as they arise, take care of maintenance requests, and make sure they feel appreciated. Happy tenants are more likely to remain and maintain the property well.
      4. Legal Compliance:

Learn about the rules and laws that apply to renting in your area and across the country. In addition to protecting your property, compliance is crucial for defending your rights as a landlord. Follow any legislative developments closely.
      5. Financial Management:

It is crucial to have a sound financial management system. Keep thorough records of all revenue and outgoing costs associated with your property. This will support your overall financial stability and tax preparation.

Home Maintenance in Nigeria
Climate Considerations:



Different maintenance techniques are required because of Nigeria's varied climate, which ranges from the tropical south to the dry north. Property exposure to saltwater and high humidity is greater around the coast, which can hasten deterioration. In these areas, it's critical to maintain the roof, avoid rust, and paint regularly.

 

Electrical and Plumbing:



Regular plumbing and electrical maintenance is essential. Appliances may become damaged by frequent power fluctuations in particular locations, and water damage may result from plumbing problems. To avoid serious issues, routinely inspect and repair these systems.

3. Pest Control:

In Nigeria, pest infestations can be a serious problem. Rodents, termites, and insects can all do significant harm. To protect your property, take preventative precautions and employ a reputable pest control company.

4. Security:

Increasing the security of your rental property benefits the home itself and draws in prospective tenants. To discourage thieves, put up security systems, exterior lights, and sturdy doors and windows.

Property Management Companies

Property management firms provide a helpful answer for property owners who favor a hands-off approach to management. These businesses focus on managing your rental properties, making sure everything runs properly, and taking care of the day-to-day duties. Working with property management businesses has the following significant advantages:

1. Efficient Tenant Selection:

The ideal tenants for your home can be chosen by property management companies thanks to their experience. They thoroughly screen prospective tenants and run background checks to reduce the possibility of problematic tenants.

2. Timely Rent Collection:

Rent collection is one of the landlords' top priorities. Property management businesses make a guarantee that rent is paid on time, giving property owners a reliable source of income.

3. Property Maintenance:

These businesses handle all aspects of property upkeep, such as repairs and inspections. This guarantees that your property will continue to be in great shape.

4. Legal Expertise:

Property management businesses keep up with the constantly evolving legal environment. They can handle lease agreements, tenant evictions, and other legal issues while defending your interests.
Conclusion:
In conclusion, property management and upkeep are crucial components of the real estate sector. You can successfully traverse this market by adhering to the advice for managing rental properties and comprehending the particular difficulties with property upkeep in Nigeria. 
For property owners looking for a hassle-free experience, property management companies offer a useful service. Your rental property venture might prosper if you have the correct partners and strategies.
Visit our website at ayhomes.ng if you're looking for qualified real estate services in Nigeria. Our knowledgeable staff is here to help you manage your rental properties and make sure they generate the highest profits. Don't pass up the chance to see what we have to offer. Get in touch with us right away, and let's start out on a fruitful real estate journey.