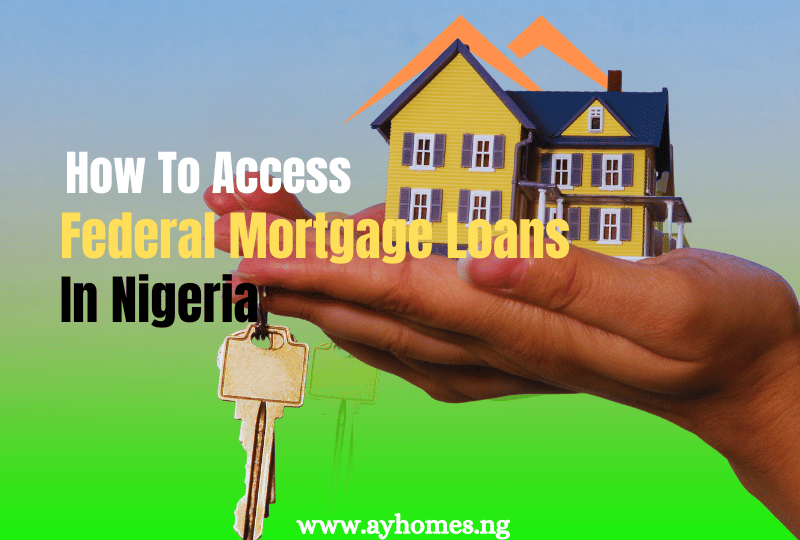 How to Access Federal Mortgage Loans in Nigeria (Quick Guide)
Everyone needs a place to call home since housing is one of the most essential components of human life and because everyone is forced to have a roof over their heads. 
Fundamentally, the Federal Mortgage Bank of Nigeria (FMBN) was founded to give Nigerians dependable and reasonably priced mortgage loans so they could become homeowners.  
Obtaining a federal mortgage loan in Nigeria doesn't have to be a challenging procedure. Almost everything you need to know about applying and how to access federal mortgage loans in Nigeria can be found by reading this article. 
Despite the fact that the Federal Mortgage Bank of Nigeria makes it easy to become a property owner with the right information and strategy in place, many Nigerians, however, do not take advantage of this opportunity. We'll discuss the steps and procedures involved in obtaining a Federal Mortgage Loan in Nigeria in this article.
Information Regarding Federal Home Loans in Nigeria
To get started, let us comprehend what constitutes a mortgage loan. A mortgage is a kind of loan that can be used for home financing or purchase. Mortgages are sometimes known as "mortgage loans." 
You can purchase a home with a mortgage even if you are unable to make the last payment on time. It is mainly given to people who wish to buy a house but don't have the whole amount available at this time.
Let's Discuss Federal Mortgage Loans In Nigeria.
Established in 1956, the Federal Mortgage Bank of Nigeria (FMBN) aims to alleviate the financial load on Nigerians by means of certain programs. 
It was recognized as Nigeria's leading mortgage institution in 1994. Since then, it has been in charge of managing and supervising the National Housing Fund, a contributing savings system (NHF).
The NHF is a social savings initiative that seeks to raise long-term capital to provide contributors with low-interest loans. It is among the FMBN's main responsibilities. The Nigerian government mortgage bank loans are governed by the National Housing Fund Act (1992).
The main objective of the Federal Mortgage Bank of Nigeria is to make homeownership in Nigeria more accessible, inexpensive, and easy to obtain. The organization develops new goods and services and relies mostly on long-term liquidity to achieve this.
The regulation
The Federal Government of Nigeria claims that the following regulations, among others, direct the organization to ensure that it operates in line with its main goal: 
Compile and manage the National Housing Fund in compliance with the NHF Act's guidelines.

Give Nigerian mortgage institutions access to long-term lending facilities.

Boost the establishment and expansion of competitive primary and secondary mortgage institutions to help Nigeria's various regions satisfy the demand for housing.

To guarantee the correct execution of the FMBN Act's purposes, take any action and conduct any transaction that the Board deems appropriate.

putting both foreign and indigenous money into real estate investments.

Connecting the real estate and stock markets.

Create and oversee a robust secondary mortgage market.
How To Apply To Apply For A Federal Home Loan In Nigeria
You have to be a Nigerian national and at least 18 years old. For six months, they were required to make contributions to the National Housing Fund. Additionally, applicants need to show that they have a steady source of income.
It is a well-known fact that obtaining a loan requires applying for one. All you have to do to apply for a loan is require one. The process for applying for a Federal Mortgage Loan in Nigeria is as follows:
Individual borrowers are limited to applying through a Primary Mortgage Bank (PMB) of their choosing that is completely regulated; institutional borrowers may do so directly through the Federal Mortgage Bank of Nigeria (FMBN). You will not, however, be able to use FMBN to apply for the loan.

The Primary Mortgage Institution must be the source of both loan applications.

It is necessary for your primary mortgage institution to be registered with FMBN in order to use the National Housing Fund Service.
When Applying For A Loan From The Federal Mortgage Bank of Nigeria, What Documents Do I Need?
The following documents are required when applying for a loan
The application has been completed and submitted.

duplicated title papers

Bills of quantities for the house you want to build, or a current market value report for the house you wish to purchase.

A tax clearance certificate good for three years.

Evidence of NHF's participation

Copies of the latest three months' worth of pay stubs

Depending on the desired loan size, a personal ownership or equity stake may be necessary.
Basics Steps For Registering For A Federal Mortgage Loan In Nigeria
All Nigerians in employment, whether self-employed or employed, are obliged to contribute 2.5 percent of their base pay or income to the fund under NHF Act No. 3 of 1992.
Here is a condensed version of the Federal Mortgage Bank of Nigeria's registration process;
The following actions must be taken in order to register with the Federal Mortgage Bank of Nigeria (FMBN):
An Employer Registration Form (NHF1) will be sent to employers by the FMBN.

The NHF1 form must be completed by employers and submitted to the FMBN office in their community.

The employer will receive an employer registration number and be registered with the FMBN upon submission.

Employees can complete the NHF2 form, which employers can obtain from the FMBN. As an alternative, self-employed people can speak with the FMBN directly.

Workers must fill out form NHF2 and turn it into their company.

Subsequently, the FMBN will receive the completed NHF2 forms from the employer or independent contractors.

Every employee will receive a participation number and NHF2 form registration from the FMBN.

The FMBN will provide each registered employee with a passbook in which the employer will document the 2.5% monthly deduction from the employee's basic income.

Employers are required to deduct contributions at the source and report the funds to the FMBN along with a payment schedule that breaks down each employee's contribution amount and the duration of coverage.

It is mandatory for independent contractors to send their monthly contributions to the FMBN.

Contributions will be accepted by FMBN, who will also provide payment receipts.
Contact Information
The following methods might be used to get in touch with the Federal Mortgage Bank of Nigeria if you have any additional questions:
Address: Federal Mortgage Bank of Nigeria. PMB 2273 Garki, Abuja, Nigeria; 266 Cadastral AO, Central Business District
Phone numbers 0902920689, 0902920690, 09087973000, and 08170237904.
Email Address: info@fmbn.gov.ng
Frequently Asked Questions (FAQS)
How Much Can You Apply For?
Like all loans, the Federal Mortgage Loan has an upper limit. Thus, the highest loan amount that a borrower may be eligible for under this government mortgage loan is N15 million. The borrower's bank, however, can provide different advice. However, no individual should receive credit for more than 90% of the property that is mortgaged. You can read up on investing in real estate.
What is the Federal Mortgage Loan Nigeria interest rate?
There is interest associated with each loan. On the other hand, the interest rate on government mortgage loans was controlled by the National Housing Fund Act. It doesn't exceed 6% annually.
Can Someone Who Lives Outside Of Nigeria Apply For a Federal Mortgage Loan?
Yes, you can apply for a Federal Mortgage Loan even if you live overseas as long as you meet the eligibility requirements.
How Can I Monitor My Monthly Donation To The National Housing Fund?
Staying up to date with your monthly National Housing Fund subscription is awesome. Aside from that, knowing your contributions are on schedule gives you peace of mind. In the current calendar year, subscribers have the ability to view the status of their donations for any given month. This is to confirm that your monthly donations have been received by the scheme.
You can check your monthly donation to the National Housing Fund in the following ways:
USSD Code: You would typically want to find out if they have sent in your contributions. The USSD code was first introduced by the Federal Mortgage Bank of Nigeria. You can finish your mortgage financial transaction with this code without needing to contact a mortgage institution for validation. *219# is the USSD CODE that needs to be used to complete the transactions. You can check contact details, obtain a statement of account, visit the business board, and utilize the mortgage calculator all from the comfort of your home or place of work.

Mobile App: Using the FMBN Mobile app, you can also see the status of your gift.
Your only task is to:
From the Google Play store, download the Android version of the FMBN Mobile app. can download the App Store's counterpart for iOS.
After that, register for an account using your personal information and take advantage of all transactions from the convenience of your home.
Can I change my profile information on the USSD platform or the FMBN mobile app?
You may need to change your profile (on the FMBN Mobile App or USSD platform) since you submitted incorrect information there. You would want to update it as a result. Please be aware that on these platforms, you are unable to alter their profiles. On the other hand, you can contact their local branch office or complete the Update Form on the FMBN website.
What advantages do Federal Mortgage Loans offer in Nigeria?
Securing a federal mortgage loan offers several advantages. They consist of:
It includes a housing loan worth up to 90% of the total price of the home.

For the duration of the mortgage, they set the interest rate at 6% per year.

Up to 30 years are allowed for repayment under this lengthy term.

Contributions can support more secure retirement plans.

The maximum loan amount is N15 million.

2% interest-bearing refunds upon retirement.

Repaying a debt is similar to making a regular monthly rent payment.

For every contributor, they provide a lifetime registration number, an account statement, and a passbook for tracking personal contributions.
Conclusion:
In Nigeria, federal mortgage loans present a wonderful chance for people to realize their dream of becoming homeowners. These loans offer low-interest rates, flexible repayment plans, and government assistance to help make the process of becoming a house owner easier and more feasible.