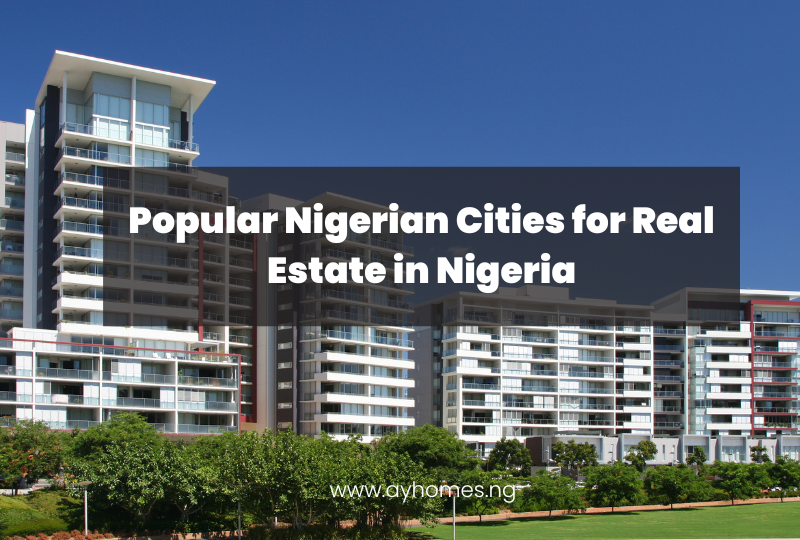 Popular Nigerian Cities for Real Estate 
It's important to understand the number of popular Nigerian cities for real estate and locations that present potential chances when investing in real estate business in Nigeria. Nigeria's real estate market is thriving due to the country's expanding economy and population. We will examine the most well-liked Nigerian cities for real estate investments in this piece, concentrating on Lagos, Abuja, and Port Harcourt.
Lagos Real Estate Market
Lagos, frequently referred to be Nigeria's economic capital, has a thriving real estate industry. Since it is the most populated city in Nigeria, there is a significant demand for residential and commercial real estate. Lagos is an excellent place for real estate endeavors since it offers a variety of investment prospects.
Residential Properties
There are many choices available to investors wishing to enter the Lagos residential market. Every budget may find a property, from opulent apartments on Victoria Island to reasonably priced homes in places like Ikorodu. Luxury residential communities may be found in Lagos Island, Lekki, and Ikeja.
Commercial Real Estate
Lagos is a vibrant business center that draws businesses from all around the world. Demand for commercial properties has increased as a result. Premium office premises and commercial structures may be found in places like Victoria Island and Ikoyi. These investments have the potential to generate large profits.
Rental Yields
In Lagos, especially in locations with high demand, rental yields look attractive. Depending on the area and type of property, investors might anticipate residential property rental yields of between 6% and 10%. Commercial real estate furthermore provides competitive rental returns.
Infrastructure Development
The state of Lagos has made significant investments in the growth of its infrastructure. Lagos is a desirable location for real estate investments thanks to the development of the Lekki-Epe Expressway, the new international airport, and ongoing urban renewal initiatives.
Abuja Real Estate Trends
The capital of Nigeria, Abuja, is another hub for real estate investment. Abuja, which is well-known for its political importance and expanding population, has special chances for investment.
Government Presence
The Nigerian government's headquarters are located in Abuja, which increases demand for both residential and business buildings. Prestigious residences and embassies may be found in the Diplomatic Zone, Asokoro, and Maitama.
Upscale Developments

The city is undergoing upscale development, with the emergence of gated neighborhoods, luxury residences, and contemporary office buildings. These developments target a wealthier clientele, attracting investors because of their profitability.
Investment Potential

Abuja's ongoing growth offers opportunities for investors. In the city, rental yields are competitive and frequently range from 7% to 12% for residential buildings. For investors in commercial real estate, the high demand for office space offers fantastic prospects.
Port Harcourt Property Investments
Another city that has attracted interest in the Nigerian real estate market is Port Harcourt. It has experienced significant expansion in recent years and serves as the state capital of Rivers.
Oil and Gas Industry
Nigeria's oil and gas sector has a sizable hub in Port Harcourt. Due to the existence of this business, housing demand has increased, particularly among foreign workers. The city is now a great place to invest in real estate because of this.
Residential and Commercial Opportunities
Residential and commercial real estate options are available in Port Harcourt. Developers and investors have shown an interest in places like GRA Phase 2 and Trans-Amadi. Investors will benefit from the city's expanding population as well as the need for homes and offices.
Investment Returns
Residential houses in Port Harcourt frequently produce rental yields of between 8% and 12%. These remarkable returns are a result of the city's economic activity, particularly those in the oil and gas industry.
Conclusion:

In conclusion, Nigeria has a booming real estate industry, and places like Lagos, Abuja, and Port Harcourt provide great investment prospects. Every city has its own benefits, from Port Harcourt's oil and gas industry to Abuja's political importance and Lagos' thriving economic environment.
When entering the Nigerian real estate market, investors should carefully assess their goals and spending limits. Real estate investments in Nigeria can be quite profitable with the appropriate plan and site choice. If you're prepared to learn more about these possibilities, we gladly encourage you to visit our website at ayhomes.ng to find a variety of real estate choices that might be your next wise investment.