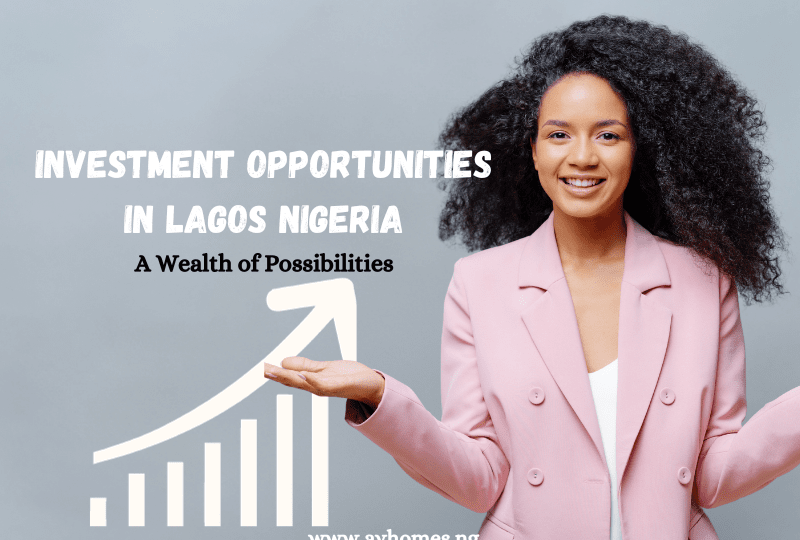 Investment Opportunities in Lagos Nigeria: A Wealth of Possibilities

Lagos, Nigeria has one of the fastest growing economies in the world in addition to being the most populous metropolis on the African continent. Investors seeking development and profitability are drawn to the city because of its dynamic culture, diversified population, and business-friendly legislation. This article serves as your all-inclusive guide to Lagos, Nigeria's plethora of investment opportunities.


Investment Opportunities in Lagos Nigeria

There are plenty of investment opportunities in Lagos, Nigeria in a number of sectors which include:

Real Estate: Building for the Future
Lagos is seeing a rise in real estate due to the city's increasing urbanization and fast-expanding population. Purchasing both commercial and residential real estate is a wise decision. Lekki and Victoria Island are two places with significant ROI potential. The AYHOMES Buy Back Plan is a unique investment solution offered by AYHOMES, you can click here to learn more about the high-investment plan.
Agriculture: Tapping into Agribusiness
Nigeria is perfect for agriculture due to its large amount of fertile land and pleasant temperature. Think about making an investment in animal farming, agro-processing, or agricultural production. The economy of the nation is largely driven by the agriculture sector.
Technology: Riding the Digital Wave
With so many digital enterprises and startups, Lagos is becoming a tech hub. Fintech and e-commerce are just two of the IT industry's many prospects for investors hoping to profit from the digital revolution.
Oil and Gas: Nigeria's Black Gold
Nigeria is among the major oil-producing nations in the world. There are several opportunities in the oil and gas sector, from downstream industries to exploration. An important center for this industry is Lagos.
Manufacturing: Industrial Growth
The manufacturing sector in Lagos is growing. To take advantage of the city's industrial strength, invest in sectors like food processing, textiles, and building supplies.
Tourism: Exploring a Hidden Gem
Lagos is known for its stunning beaches, extensive cultural history, and exciting nightlife. The tourist sector has enormous growth potential. Think about making investments in travel agencies, hotels, and resorts.
Healthcare: Meeting Vital Needs
Lagos's healthcare industry is expanding quickly. The construction of clinics, hospitals, pharmaceutical production, and healthcare technology all present abundant investment potential.
Education: Nurturing Minds
The need for high-quality education in Lagos is rising. Invest in educational institutions such as colleges, universities, and career centers to support the city's educational development.
Renewable Energy: Powering Progress
Lagos is using sustainable energy methods. Investment opportunities in solar and wind power plants are both profitable and sustainable.
Infrastructure: Building the Backbone
The infrastructure of the city is always changing. To promote the expansion of the city, investments in building and urban development projects are essential.
Frequently Asked Questions
What makes Lagos, Nigeria, a prime investment destination?
Lagos, Nigeria, has a thriving economy, a prime position in West Africa, a sizable and varied customer base, and an atmosphere that is conducive to business. It is a desirable location for investments because of these aspects.
Are there any legal requirements for foreign investors in Lagos?
Lagos welcomes foreign investment and allows foreign ownership in the majority of its sectors. It is, nonetheless, wise to consult legal counsel to manage any particular restrictions.
What is the typical return on investment (ROI) in Lagos, Nigeria?
While return on investment (ROI) varies by industry and type of investment, significant returns are typical, particularly in real estate and software firms.
How can I mitigate investment risks in Lagos?
Engage with local experts, carry out in-depth market research, and think about diversifying your investments across a number of industries to reduce risks.
Is there a specific government agency to assist foreign investors?
The government organization in charge of encouraging, organizing, and keeping an eye on investments in Nigeria is the Nigerian Investment Promotion Commission (NIPC). They give investors advice, information, and support.
Conclusion:

There are a wide variety of investment options in Lagos, Nigeria. You may now make well-informed investing decisions by using the insights and clarity this article has offered on the major industries. For individuals looking for progress, prosperity, and economic advancement, Lagos has an abundance of opportunities, regardless of whether they are foreign investors or local business owners.
Click here to explore more real estate opportunities in Lagos Nigeria.